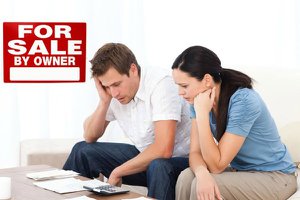 Here is one quick story before I get into the selling tips. I understand the mindset of the homeowner that wants to try to sell their home on their own and save some money. Before I got my real estate license and got into this crazy business I tried to sell my home on my own too. Well, I failed. Pretty spectacularly too. It isn't as easy as you may think. I owned a townhouse in Vermont a few miles from Dartmouth College and I was ready to move back to Florida in early summer 2002. The market was really heating up and the complex I lived in was really popular with grad students and residents at the hospital. Some were even going around knocking on doors hoping to find an eager seller.
I put and ad in the local paper and soon enough I had a women willing to pay me $125,000 cash, which wasn't far off my asking price. We signed a purchase agreement that I found at a bookstore. She even gave me a 10% deposit and thought we had a deal. This wasn't very smart on her part, but we were both amateurs at this. Not knowing any better I deposited the money in my bank account.
I came down to Florida to start looking for a place to live. I was here for nearly a week when the buyer calls me up and says she has changed her mind. She doesn't want to buy it and she wanted her deposit back. She had very little to stand on. There was no inspection contingency or any other clause in the contract that will allow her to be released from it. So I refused to give her deposit back.By depositing the funds into my account instead of putting them in an attorney's escrow account I had made a big mistake. That allowed her attorney to put a lien on my home and squash the possibility of selling it any time soon. I hired my own attorney and eventually we agreed to settle with me keeping $5000 as liquidated damages and her getting $7000 back.
But by this time it was well into fall. School had started and grad students were no longer looking for housing. I had missed my opportunity.I tried again to sell it myself for a while without any luck. I really didn't want to spend another winter in Vermont, so I hired an agent referred to me by a friend. She sold it but it isn't easy to sell in Northern New England when winter is approaching. My agent did find me a buyer and I ended up closing at the end of January. When I got in my car to drive to Florida there was two feet of snow and it was 18 degrees below zero. I lost a lot of time and had to deal with some huge aggravation, all because I didn't know what I was doing.
I want to help you save some money and avoid mistakes like the one I made. After 10 years of selling real estate in a competitive South Florida Market, I have sold hundreds of homes and learned a lot along the way. Hopefully this will help you get your home sold and save you some money too. If you do run out of time and decide you need the help of an experienced agent I hope you consider hiring me.
Getting Ready
De-Clutter
Moving is a great time to get rid of a lot of useless junk you have acquired. The less you have, the less it will cost you to move and your home will show better.
Have a yard sale
Donate belongings to charity and get the tax benefits.
If you can't walk into your walk-in closet, it will look small to potential buyers. Thin it out. The same goes for your garage. Kitchen counters should be clear of rarely used appliances.
Repairs
I recommend having your home inspected by a professional before you put it on the market. There are several reasons for this.
If your home has repair issues, it's better to find out before you put it on the market.
It will ensure a smoother closing.
Buyers may try to renegotiate the price after they learn how much it needs to repair it.
Here are a few simple things that will enhance value and don't cost much
Clean carpets and or tile grout
Paint, preferable in neutral colors
Replace cabinet hardware
Replace old light fixtures.
Pressure wash the exterior, driveway, sidewalk.
Trim the landscaping
Get Your Documents in Order
Here are some of the documents you will need, if you get your home under contract.Sellers Disclosure Statement - This a form that informs potential buyers of all the material facts about your home that might affect it's values. It is typically signed by both the buyer and seller, upon a successful purchase agreement. Buyers may request it prior to making an offer. So you should have one prepared and signed.Title Insurance Policy - You can save yourself a little money in closing costs, if you can provide your current policy to the closing agent.HOA/Condo Documents - Here in Florida, buyers have a three day right of rescission if the home or condo they are buying is subject to a condominium association or Homeowners Association. They have three days to review the rules, regulations and finances. They can be released from the contract for any reason during that period and you need be able to provide them the documents immediately upon signing a purchase agreement.
Consider Hiring an Attorney
Here in Broward County, FL it is customary for the buyer to choose the title agent and pay for the title insurance policy. If you are represented by an agent, that is usually enough to protect your interests and the buyers title agent can get the closing done. If you are going it alone you should have an attorney to review and approve contracts and take you through closing.
Pricing it Right
Pricing may be the most important aspect of getting your home sold. Consider your own buying habits. How often have you bought something without considering what it cost? You probably do it with even the most inconsequential purchases without even knowing it. Price consciousness is almost part of your sub-conscious.Today buyers are very well informed thanks to the internet. They are also becoming less tolerant of negotiating. The very best marketing cannot overcome an overpriced home. A common mistake FSBOs make when pricing their home is to base their price on what other sellers are asking. The problem with that is those homes are still unsold and may never sell.
So how do you come up with the right price?-
Get an Appraisal. It will cost you about $400, but it should be the most accurate value and will give you leverage when you are negotiating.Or-Get a CMA (Comparative Market Analysis). Most real estate agents will do this for you at no charge, even if they know you intend to try to sell on your own. If you live in Broward County, call me. Once you decide what your home is worth you may be tempted to pad the price in order to give yourself room to negotiate. That is fine, but be reasonable. A couple of percentage points should be enough.
There is direct relationship between the price you put on your home and the length of time it takes to sell it. I probably don't have to tell you there is a price your home, or almost any home, will sell at tomorrow with little or no advertising? There is also a price where it will never sell. The sweet spot is somewhere in between. It is generally accepted that fair market value is the price a home will sell for in 45 days or less.
Related:
For Sale By Owner - Tips From A Pro Part 2 Marketing Your Home
For Sale By Owner - Tips From A Pro Part 3 Getting to Closing
For Sale By Owner - Tips From A Pro Part 4 Closing Day
_________________________________________________________________
You can reach me 954-895-2431
If You Like This Post, Please Share. Thanks!