Everyone likes a good deal. If you are actively looking for a new home but will only consider homes that are "priced right" you may end up looking for a long time, get outbid, or never find your dream home at all. There are many good reasons to just ignore the exorbitant price and go ahead and make offers anyway. Here are the most important.
You Wont Be Competing With Other Buyers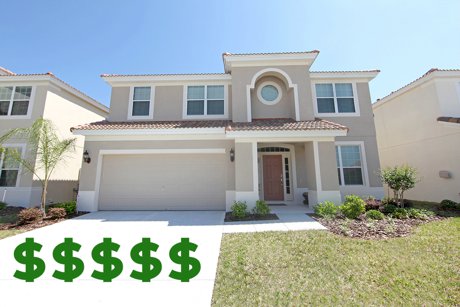 Certain segments of the market are very competitive right now. Here is South Florida, single family homes priced under $500,000, in good school districts, are especially competitive. When a well priced home comes on the market it gets a lot of attention and often multiple offers. It is not unusual for prospective buyers to be outbid several times before they are successful. In these competitive situations buyers can end up over paying to avoid getting out bid again.
The market is very transparent these days. It is easy to spot an over priced home. They may get a few looks but no offers. Then after a while on the market their listing has become stale. That can be the kiss of death for the seller, but a real opportunity for the buyer. When an offer finally does come in, they may be ready to take just about anything.
They could just be stubborn or unrealistic. You won't know for sure until you actually make the offer. Even if it is well below what they are asking. And, if your offer goes no where, the seller may eventually come to their senses. When that happens you will be at the top of the list for a phone call from their agent.
The Seller Has No Leverage
On a well priced listing the seller is in total control. They don't have to negotiate. The market will do it for them. I have seen way more irrational behavior from buyers on homes priced near or even a bit below market value than on any over priced home. A lot of sellers are sure there is one special buyer who will just fall in love with their home, or they will find a buyer with more money than brains. However, they rarely appear.
I only have anecdotal evidence, but whenever I see a sale that closed for a really good price for the buyer, it is most often an instance where the seller has set a price that is too to high, not too low. Clearly, they had little interest from buyers and they thought that would be the best they could do. So they capitulated and took that low offer.
They all think they can negotiate a great price for themselves, but if a buyer doesn't want to pay that price they will just wait for something better to come along. Time is the great equalizer.
It Takes Very Little Effort To Submit an Offer
I have said it many times before. The best deals are not found, they are made. If you see a property that looks like a good deal, chances are 100 other people see it too. It will be gone before you know it. In today's market you need to consider going where others fear to tread. You may have to make many offers, but it doesn't take that much effort to do so. A standard "as-is" contract takes me about 10 minutes to write up with the software I use. It can be signed electronically, by you, the buyer, with almost no effort at all. If you took the time to see the property you shouldn't be worried about the effort it will take to make an offer.
I see a lot of reluctance from buyers to make offers. They don't want to offend someone, even if they are completely wrong about the value of the home. Well, that is why you hire an agent, to do it for you. We have thick skin. We are used it. So go out and make some offers.
Related:
When is The Best Time to Buy a House in Florida
What Should I Offer on My Next Home?
Where Are The Deals? Look For Vacant Properties
You can reach me 954-895-2431
If You Like This Post, Please Share. Thanks!